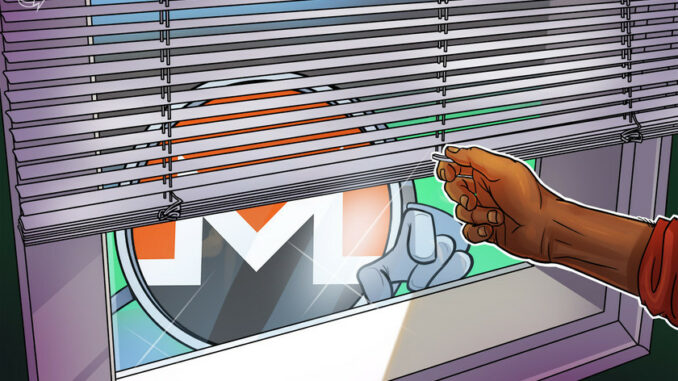 Cryptocurrency exchange Huobi will delist seven different privacy coins from its platform as regulatory pressure mounts on anonymity-enhanced currencies (AECs).
The exchange announced that it had terminated the trading service of a number of privacy tokens including Dash (DSH), Decred (DCR), Firo (FIRO), Monero (XMR), Verge (XVG), Zcash (ZEC) and Horizen (ZEN).
These tokens will begin to be delisted on Sept. 19, while deposit services ceased on Monday in conjunctio with the announcement. Users were urged to cancel open orders for the privacy coins, while the exchange will cancel any existing orders at the delisting time and credit users' spot accounts.
Related: US expansion for Huobi a step closer after it secures a FinCEN license

Huobi noted that it made efforts to meet compliance policies of more than 100 countries in which its services are available. The announcement cited efforts to comply with the latest financial regulations, as well as the company's Token Management Rules.
Article 17(16) of its rules list addresses "trading concealment or suspension," which gives Huobi Global the right to conceal or suspend token trading in the following circumstances. Clause 16 is directed at privacy coins in particular:
"The token is a privacy token, does not support offline signatures, or its node source codes are not open-sourced."
The exchange also confirmed that it had ended trading services on its futures, margin, ETP, OTC and trading bot services. Cointelegraph has reached out to Huobi Global to ascertain the driving force behind the move and whether regulators in specific countries have necessitated the delisting of the respective privacy coins.
Huobi is eyeing a move into the United States market after acquiring a Money Services Business (MSB) license from the U.S. Financial Crimes Enforcement Network (FinCEN) in July 2022. 
As Cointelegraph previously reported, privacy tokens have come under intense scrutiny in different jurisdictions around the world, with the likes of Japanese, South Korean and Australian regulators outlawing their use in recent years.