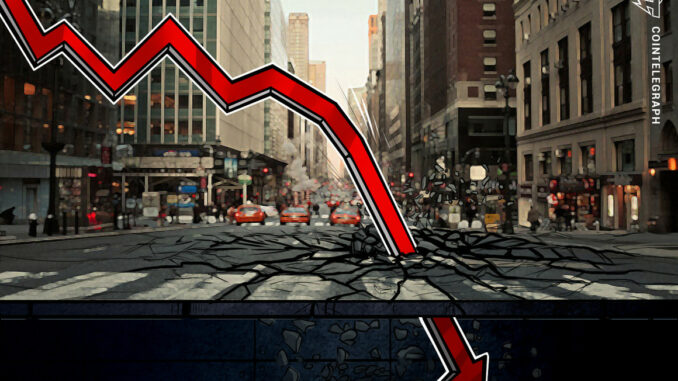 Bitcoin (BTC) is heading for "absolute carnage" that will result in a trip to around $25,000, a popular trader has warned as bullish signals disappear for BTC/USD.
In characteristically direct tweets this week, Twitter user Cobra Crypto warned that 20% is about to be shaved off the entire cryptocurrency market capitalization.
Crypto to see "absolute carnage" within days?
Bitcoin has suffered from downside over recent days despite "feel-good" news stories from the Bitcoin 2021 conference, including adoption in Latin America.
Now, after BTC/USD lost 9% overnight, attention is turning not to a recovery but to a deeper price dip to test hodlers' "diamond hands."

According to Cobra Crypto, the size of the capitulation will cost the $30,000 support that remained during the May retracement.
"Absolute carnage within next 5 days or you can tell me how wrong I was," he wrote on June 4.
An update gave a time limit of 48 hours from June 7 for the fresh losses to enter the market. Bitcoin, he argued, would not stop at $32,000.
This isn't even the dump. Just wait another 48 hours max.

— Cobra Crypto (@CobraCrypto) June 7, 2021
At the time of writing, BTC/USD traded at $33,000, having toyed with $32,000 repeatedly over the course of June 8.
Cobra Crypto added that he would "scale back in" to Bitcoin at prices below $28,000.
No hint of upside 
Bitcoin's problems are meanwhile already spilling over into altcoins, some of which previously managed to buck the overall downtrend to deliver solid gains to holders.
With the exception of Theta Fuel (TFUEL) and exchange iFinex's Unus Sed Leo (LEO) token, all top 50 cryptocurrencies by market cap were in the red on June 8.
A 20% reduction would bring the overall cryptocurrency market cap down to around $1.13 trillion, still preserving its trillion-dollar status.
Crypto Cobra was not alone in predicting negative price moves. As Cointelegraph reported, fellow trader Crypto Ed is also betting on a further downturn for Bitcoin.
"Beware, I think we still get 1 leg down, the bounce is weak," he warned in his latest update.
"BTC 32k or lower ETH 2400 or lower."