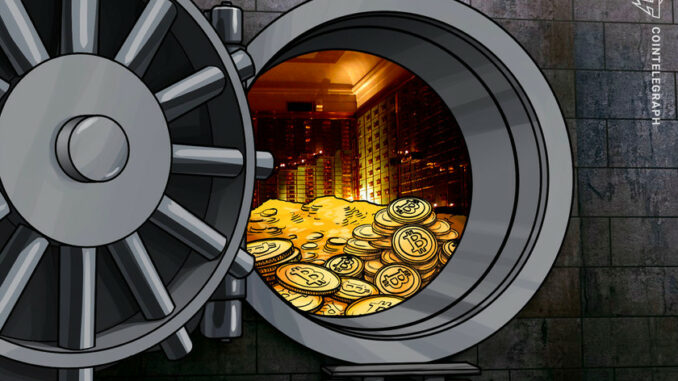 Cypherpunk Holdings (CSE:HODL), a privacy-focused Canadian investment company, has upped its stake in Bitcoin (BTC). 
The company disclosed Thursday that it has added 72.979 BTC to its reserves since June 30, 2020.
Cypherpunk funded the acquisition by liquidating its holdings of Monero (XMR) and Ethereum (ETH), as well as through partial proceeds from a private placement of CA$505,000, or $388,000, closed on Aug. 27.
With the purchase, Cypherpunk now has 276.479 BTC in its reserves, making it the ninth-largest public Bitcoin holder. At current values, Cypherpunk's stake in BTC is worth just under $4.8 million.

At the time of writing, at least 14 publicly-traded companies held Bitcoin on their books. Combined, their holdings amount to 66,896.59 BTC, or $1.2 billion. That's equivalent to roughly 3.2% of Bitcoin's circulating supply.
Cypherpunk Holdings, which trades on the Canadian Securities Exchange, has several privacy-focused businesses on its books, including Wasabi Wallet and Samourai Wallet. The company also invests in Hydro66, a green cloud infrastructure platform, and smart contract protocol Chia Network.
The company is run by Antanas Guoga, or Tony G, a Lithuanian businessman, politician and former professional poker player. He now serves as an elected member of the Seimas, the legislative branch of the Lithuanian government. Previously, he served as a member of European Parliament for Lithuania. 
It appears that more public companies are converting their cash holdings into Bitcoin as a more suitable store of value. MicroStrategy, which has converted most of its cash holdings into Bitcoin, is the most prominent example of this trend. The company now sits on 38,250 BTC after nearly doubling its holdings over the summer. 
Galaxy Digital is the second-largest public Bitcoin holder at 16,402 BTC, followed by Square's 4,709 BTC.
Cypherpunk did not immediately respond to a request for comment.