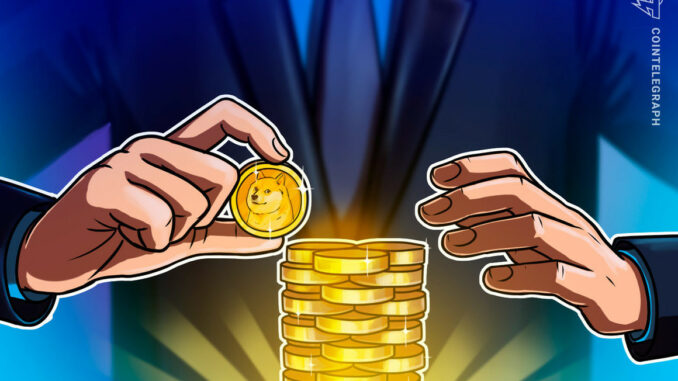 The cryptocurrency market has had a wild ride thus far in 2021 as multiple sub-sectors including decentralized finance (DeFi), nonfungible tokens (NFTs), memecoins and layer-two solutions have seen their total value locked and token prices skyrocket to new highs. 
One of the biggest success stories of the year was Dogecoin (DOGE), a simple "joke" cryptocurrency that has morphed into a darling of the cryptocurrency sector. Interestingly, over the past month, the project is again gaining momentum, and several data points suggest sentiment for the DOGE is becoming increasingly bullish.
Data from Cointelegraph Markets Pro and TradingView shows that since hitting a low of $0.159 on July 20, the price of DOGE has rallied 120% to reach an intraday high of $0.35 on Aug. 16 as its 24-hour trading volume jumped by 63% to $8.6 billion.
Three reasons analysts and traders are developing a more bullish outlook for DOGE include increases in on-chain activity, rising trading volumes on top exchanges and an increase in attention from big-name influencers.

On-chain activity shows increased use
The ability to attract new tokenholders is one of the most important factors for the long-term viability of a cryptocurrency project because new users help to increase token velocity and overall demand.
As seen in the following tweet from Philip Gradwell, chief economist at Chainalysis, Dogecoin adoption is currently at its highest level since the 2017 bull market, with new users who have held the token for less than six months currently holding 25% of the circulating supply.
On-chain, Doge is being adopted by new investors at a level not seen since the late-2017 bull market, with new investors increasing their share of supply from 9% in July 2020 to 25% in August 2021 pic.twitter.com/W782qNhyMW

— Philip Gradwell (@philip_gradwell) August 16, 2021
A follow-up tweet from Gradwell provided deeper insight into the on-chain activity for Dogecoin, which had an average of 32,000 daily active users (DAUs) in 2021.
Gradwell said:
"Doge has had an average of 32k on-chain Daily Active Users (DAUs) in 2021, and this has moved with the price. There is an R value of 0.7 between the percentage change in DAUs and the percentage change in the Doge price in 2021 so far."
Exchange volumes are on the rise
A second reason for the increase in attention from analysts toward DOGE is the rising trading volumes on some of the biggest exchanges, including Coinbase.
As seen in the following tweet from Pentoshi, a pseudonymous Twitter analyst, DOGE's 24-hour trading volume on Coinbase averaged $200 million per day over the prior week.
Just saw the $DOGE volume on Coinbase the past week and my god

There have been some massive buyers 200m USD a day of Doge in volume on CB alone (DIrect fiat on ramp) starting a week ago

While I'm not trading it to $1+ I do think it will get there. My goal is .40-.45 pic.twitter.com/VBtdAWtdjk

— Pentoshi Wont DM You (@Pentosh1) August 15, 2021
Coinbase is the largest fiat on-ramp in the United States, and this spike in activity from traders could be a sign that retail investors are piling back into DOGE and possibly other sub-$1 tokens.
Related: Coinbase beats earnings estimates as analysts say regulation will 'stifle' innovation
Mark Cuban touts the benefits of Dogecoin
A third reason for the bullish sentiment surrounding Dogecoin is recent commentary from big-name influencers such as Mark Cuban, who is once again touting the benefits of the Dogecoin as a payment rail to his legion of Twitter followers.
The point about DOGE that people miss is that DOGE's imperfections and simplicity are it's greatest strengths. You can only use it to do 2 things: Spend It or HODL It. Both are easy to understand. And it's cheap to buy. Which makes it a community anyone can join and enjoy.

— Mark Cuban (@mcuban) August 15, 2021
Cuban's focus on Dogecoin drew the ire of some Bitcoin (BTC) fans who implored the Shark Tank star to just "Buy a stack of Bitcoin and stop the doge shill," a sentiment to which Cuban directly replied and pointed out that the decision was largely in response to user demand.
Cuban said:
"I don't shill Doge. I shill the prods & services of my companies. Where we allow people to pay in ANY crypto, 95% of the sales are in DOGE. Customers CHOOSE to use DOGE. We can argue everything and anything re BTC, but right now DOGE is the people's way to pay."
The positive shift in momentum for Dogecoin was also registered in the VORTECS™ data from Cointelegraph Markets Pro, which began to detect a bullish outlook on Aug. 9, prior to the recent price rise. 
The VORTECS™ Score, exclusive to Cointelegraph, is an algorithmic comparison of historic and current market conditions derived from a combination of data points including market sentiment, trading volume, recent price movements and Twitter activity.
As seen in the chart above, the VORTECS™ Score for DOGE climbed into the green on Aug. 7 and reached a high of 72 on Aug. 9, around 24 hours before its price increased 44% over the next six days.
Rising on-chain activity and 24-hour exchange volumes, along with the return of DOGE promotion by popular influencers, has Dogecoin primed to possibly see its second bull market rally in 2021.
The views and opinions expressed here are solely those of the author and do not necessarily reflect the views of Cointelegraph. Every investment and trading move involves risk, and you should conduct your own research when making a decision.